In this short guide, we're going to merge multiple CSV files into a single CSV file with Python. We will also see how to read multiple CSV files - by wildcard matching - to a single DataFrame.
The code to merge several CSV files matched by pattern to a file or Pandas DataFrame is:
import glob
for f in glob.glob('file_*.csv'):
    df_temp = pd.read_csv(f)

Setup
Suppose we have multiple CSV files like:
file_202201.csv
file_202202.csv
file_202203.csv
into single CSV file like: merged.csv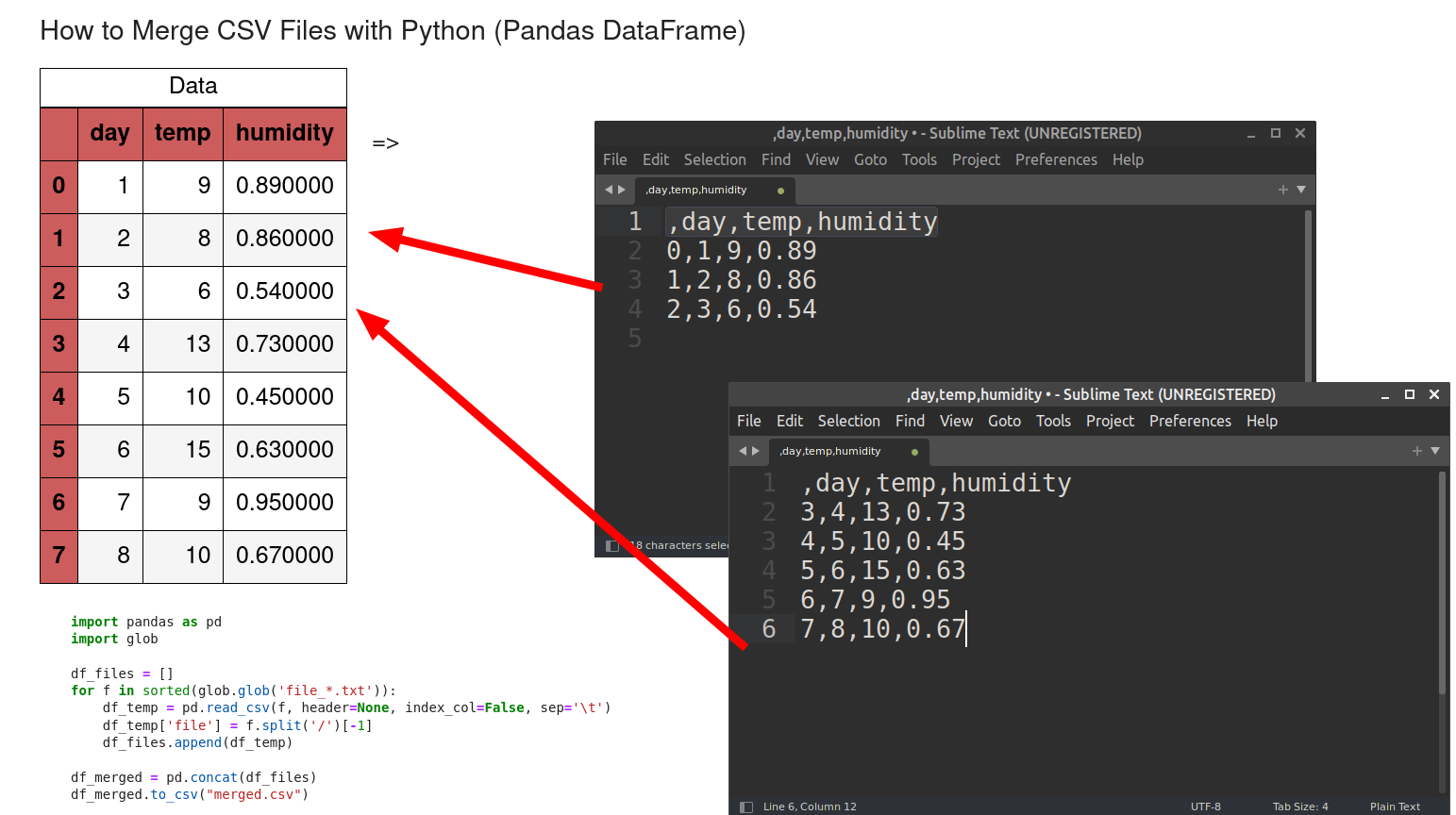 1: Merge CSV files to DataFrame
To merge multiple CSV files to a DataFrame we will use the Python module - glob. The module allow us to search for a file pattern with wildcard - *.
import pandas as pd
import glob

df_files = []
for f in glob.glob('file_*.csv'):
    df_temp = pd.read_csv(f)
    df_files.append(df_temp)
    
df = pd.concat(df_files)

How does the code work?
All files which match the pattern will be iterated in random order
Temporary DataFrame is created for each file
The temporary DataFrame is appended to list
Finally all DataFrames are merged into a single one
2: Read CSV files without header
To skip the headers for the CSV files we can use parameter: header=None
read_csv('file_*.csv', header=None)

To add the headers only for the first file we can:
read the first file with headers
drop duplicates (keep first)
set column names
All depends on the context.
3: Read sorted CSV files
Module glob reads files without order. To ensure the correct order of the read CSV files we can use sorted:
sorted(glob.glob('file_*.csv'))

This ensures that the final output CSV file or DataFrame will be loaded in a certain order.
Alternatively we can use parameters: ignore_index=True, , sort=True for Pandas method concat:
merged_df = pd.concat(all_df, ignore_index=True, sort=True)

4: Change CSV separator
We can control what is the separator symbol for the CSV files by using parameter:
sep = '\t'

Default one is comma.
5: Keep trace of CSV files
If we like to keep trace of each row loaded - from which CSV file is coming we can use: df_temp['file'] = f.split('/')[-1]:
This will data a new column to each file with trace - the file name origin.
6: Merge CSV files to single with Python
Finally we can save the result into a single CSV file from Pandas Dataframe by:
df_merged.to_csv("merged.csv")

7. Full Code
Finally we can find the full example with most options mentioned earlier:
import pandas as pd
import glob

df_files = []
for f in sorted(glob.glob('file_*.txt')):
    df_temp = pd.read_csv(f, header=None, index_col=False, sep='\t')
    df_temp['file'] = f.split('/')[-1]
    df_files.append(df_temp)
    
df_merged = pd.concat(df_files)
df_merged.to_csv("merged.csv")

Conclusion
We saw how to read multiple CSV files with Pandas and Python. Different options were covered like:
changing separator for read_csv
keeping trace of the source file
sorting files in certain order
skipping headers